St. John Cemetery
Maeystown, Monroe County, Illinois
Submitted by David "Buzz" Asselmeier, Jr.
This listing of graves was obtained from St. John Church. For Section A, there are no listed row numbers. In this case Row 1 was established as the first row listed in the document and continued numbering sequentially. The comments on the front of the document indicate 1982, however, there are some deaths/burials past that year in the document.
38º 13' 29.54" North 90º 13' 42.16" West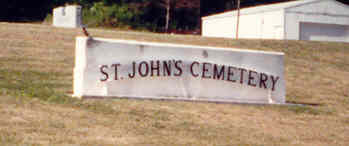 Picture submitted by Dave Mund
Cemetery Views. Click pictures to see larger view.
Cemetery Listing
| | | | | |
| --- | --- | --- | --- | --- |
| Section | Row | Grave | Name | Died |
| A | 1 | 7 | Brandt, Baby | 1929 |
| A | 1 | 8 | Byers, Ella | 1916 |
| A | 1 | 9 | Branson, Paul | 1962 |
| A | 1 | 10 | Schneider, Dorthe | 1878 |
| A | 1 | 18 | Jansen, Margaretha | 1880 |
| A | 1 | 24 | Rippelmeier, Mrs. August | 1904 |
| A | 1 | 27 | Vornbauer, Anna | 1909 |
| A | 1 | 28 | Grabe, Conrad | 1910 |
| A | 1 | 30 | M. W. A. | |
| A | 1 | 31 | Rippelmeier, Urban | 18-SEP-1914 |
| A | 2 | 9 | Sieber, Marcaretha | 24-DEC-1876 |
| A | 2 | 12 | Friedrich | |
| A | 2 | 15 | Vornbauer, Martin | 09-OCT-1883 |
| A | 2 | 17 | Vornbauer, Martin | 21-FEB-1886 |
| A | 2 | 20 | Buckhardt | |
| A | 2 | 25 | Vornbauer, Philip | 27-JUL-1892 |
| A | 2 | 28 | Wilhelmy, Walter | 1947 |
| A | 2 | 29 | Wilhelmy, August | 1932 |
| A | 2 | 31 | Wilhelmy, Robert | 27-JUL-1914 |
| A | 2 | 32 | Wilhelmy, C. A. | 08-MAY-1892 |
| A | 2 | 34 | Maeys, Jacob | 02-JAN-1913 |
| A | 2 | 35 | Maeys, Barbara | xx-JAN-1880 |
| A | 3 | 7 | Meister, Katherina | 01-DEC-1869 |
| A | 3 | 8 | Ritzel, Elisbeth | 27-JAN-1870 |
| A | 3 | 9 | Ritzel, Katherina | 07-FEB-1870 |
| A | 3 | 17 | Hoerr, Elizabeth | 11-SEP-1870 |
| A | 3 | 20 | Fischer, Philip | 17-JUL-1871 |
| A | 3 | 23 | Brandt, Wilhelm | 12-DEC-1871 |
| A | 3 | 26 | Fischer, Kathernia | 12-FEB-1872 |
| A | 3 | 32 | Kreischer, Charlotte | 04-FEB-1876 |
| A | 3 | 33 | Siebermann, Herman | 11-MAY-1876 |
| A | 3 | 34 | Maeys, Elizabeth | 02-JUL-1876 |
| A | 4 | 8 | Broken stone | |
| A | 4 | 10 | Rey, Heinrich | 05-APR-1870 |
| A | 4 | 13 | Hoffmann, Adam | 13-OCT-1870 |
| A | 4 | 17 | Bickelhaupt, Friedrich | 01-FEB-1871 |
| A | 4 | 22 | Gerber, Jacob | 07-MAR-1871 |
| A | 4 | 29 | Hesterberg, Son of H. & M. | 27-MAY-1876 |
| A | 5 | 11 | Fromme, Christina | 24-OCT-1867 |
| A | 5 | 15 | Nungesser, Margaretha | 22-MAR-1868 |
| A | 5 | 16 | Grewel, Katherina | 04-APR-1868 |
| A | 5 | 17 | Hesterberg, Gotlieb | 27-JUL-1868 |
| A | 5 | 20 | Maeys (Reifel), Christina | 09-AUG-1869 |
| A | 5 | 25 | Fischer, Jacob | 04-SEP-1873 |
| A | 5 | 30 | Sutter, Jacob | 14-JAN-1875 |
| A | 6 | 5 | Nottmeier, Maria | 14-SEP-1867 |
| A | 6 | 7 | Hoffmann, Jacob | |
| A | 6 | 8 | Grittman, Charlotte | 22-DEC-1864 |
| A | 6 | 10 | Mueller, August | 17-DEC-1864 |
| A | 6 | 11 | Eigner, Christina | 15-MAR-1865 |
| A | 6 | 13 | Vornbauer, Kathrina | 11-JUN-1881 |
| A | 6 | 14 | Pape, Wilhelm | 14-OCT-1865 |
| A | 6 | 16 | Wippermann, Heinrich | 17-AUG-1873 |
| A | 6 | 17 | Brandt, Heinrich | 01-APR-1874 |
| A | 6 | 19 | Bodenbach, Emma | 24-JAN-1875 |
| A | 6 | 20 | Hesterberg, Daughter of H. M. | xx-APR-1875 |
| A | 6 | 21 | Diehl, Karl | 01-FEB-1875 |
| A | 6 | 22 | Edler, Marie | 01-FEB-1875 |
| A | 6 | 23 | Hesterberg, Karl | 1873 |
| A | 6 | 24 | Doll, Margaretha | 20-FEB-1873 |
| A | 6 | 25 | Striet, Elisabeth | 09-SEP-1872 |
| A | 6 | 26 | Trost, Magdalena | 11-FEB-1873 |
| A | 6 | 27 | Lerch, Margaretha | 27-APR-1873 |
| A | 6 | 28 | Hoffmann, Margaretha | 24-AUG-1873 |
| A | 6 | 29 | Hoffmann, Elizabeth | 26-AUG-1873 |
| A | 6 | 31 | Hesterberg, Son of H. & M. | 05-MAY-1874 |
| A | 6 | 32 | Hoffmann, Jacob | 26-JUL-1874 |
| A | 6 | 34 | , Louise | xx-JUL-1882 |
| A | 7 | 5 | Wilhelm, Friedricha A. | 20-APR-1869 |
| A | 7 | 6 | Rasch, Caroline | 1863 |
| A | 7 | 7 | Doll, Margaretta | 20-FEB-1863 |
| A | 7 | 8 | Bickelhaupt, Johanna | 13-JAN-1861 |
| A | 7 | 9 | Klein, Magdalena | xx-APR-1863 |
| A | 7 | 11 | Hoffmann, Peter | 13-JUN-1872 |
| A | 7 | 13 | DeBuhr, John Heinrich | 07-SEP-1872 |
| A | 7 | 14 | Fischer, Johnetta | 15-AUG-1873 |
| A | 7 | 15 | Deihl, George | 05-JUL-1889 |
| A | 7 | 16 | Sutter, Daughter of Nic | 02-AUG-1889 |
| A | 7 | 17 | Asselmeier, Christina | 26-FEB-1889 |
| A | 7 | 18 | Brandt, | 1890 |
| A | 7 | 19 | Wetzler, Wilhelm | 18-FEB-1890 |
| A | 7 | 21 | Kreischer, Caroline | 16-JUL-1890 |
| A | 7 | 22 | Vornbauer, Jacob | |
| A | 7 | 23 | Kriescher, Abraham | 22-APR-1866 |
| A | 7 | 24 | Klein, Adam | 11-AUG-1868 |
| A | 7 | 25 | Doll, Catherina | 14-SEP-1862 |
| A | 7 | 26 | Klein, Magdalena | 11-FEB-1863 |
| A | 7 | 27 | Hess, Wm. J. | 03-DEC-1872 |
| A | 7 | 28 | Hess, Catherine | 03-DEC-1872 |
| A | 7 | 29 | Siebermann, Anna | 16-JUL-1872 |
| A | 7 | 31 | Miller, August | 13-OCT-1888 |
| A | 7 | 32 | Hesterberg, Carl Heinrich | 11-DEC-1888 |
| A | 7 | 34 | Maeys, Christoph Otto | 26-JUN-1889 |
| A | 7 | 35 | Maeys, Theodore | 04-SEP-1889 |
| A | 8 | 2 | Siebermann, Caroline | 24-DEC-1914 |
| A | 8 | 3 | [Ahlheim], Ludwig | 30-JUL-1905 |
| A | 8 | 4 | Siebermann, Carl | 21-APR-1893 |
| A | 8 | 5 | Siebermann, Sophie | 12-MAR-1887 |
| A | 8 | 6 | Krone, Kathrina | 01-DEC-1887 |
| A | 8 | 7 | Klein, Johann P. | 02-OCT-1887 |
| A | 8 | 9 | Hirsch, Magdelana | 09-NOV-1887 |
| A | 8 | 10 | Heinrich, Pauline | 12-MAY-1884 |
| A | 8 | 11 | Wippermann, Adolph Hy. | 10-MAR-1897 |
| A | 8 | 12 | Wippermann, Friedricha | 06-JUL-1923 |
| A | 8 | 13 | Wippermann, Conrad | 22-DEC-1920 |
| A | 8 | 14 | Wippermann, Emma | 31-AUG-1944 |
| A | 8 | 16 | Bundy, Guy | 14-AUG-1960 |
| A | 8 | 17 | Quernheim, Hy. | 24-MAR-1893 |
| A | 8 | 18 | Quernheim, Sophia | 22-MAR-1876 |
| A | 8 | 19 | Feldmeier, Elisbeth | 23-JAN-1888 |
| A | 8 | 20 | Feldmeier, Wilhelm | 12-DEC-1921 |
| A | 8 | 21 | Mathews, Christina | 27-NOV-1949 |
| A | 8 | 22 | Feldmeier, Mary | 1957 |
| A | 8 | 23 | Feldmeier, Hy. C. | 1962 |
| A | 8 | 26 | Reserved for Feldmeier | |
| A | 8 | 28 | Feldmeier, Sophie | 1931 |
| A | 8 | 29 | Feldmeier, Chas. | 1936 |
| A | 8 | 30 | Feldmeier, Anita | 13-MAY-1918 |
| A | 8 | 32 | Diehl | |
| A | 8 | 34 | Faust, Mina | 13-APR-1892 |
| A | 8 | 35 | Hoffmann, Frieda | 09-MAY-1892 |
| A | 9 | 2 | Grittmann, John | 21-AUG-1917 |
| A | 9 | 3 | Grittmann, Hy. F. | 01-JAN-1915 |
| A | 9 | 4 | M. E. | |
| A | 9 | 5 | A. E. | . |
| A | 9 | 6 | Eicner, Peter | 14-MAR-1878 |
| A | 9 | 7 | Nottmeier, Maria | 24-MAR-1878 |
| A | 9 | 8 | Pape, C. Heinrich | 05-OCT-1878 |
| A | 9 | 10 | Doerr, Christine | 16-MAR-1879 |
| A | 9 | 11 | Wagner, Wilhelm | 13-APR-1879 |
| A | 9 | 12 | Gilbert, Adam | 09-MAY-1879 |
| A | 9 | 13 | Wippermann, Herman | 04-APR-1911 |
| A | 9 | 14 | Henerfauth, John | 1955 |
| A | 9 | 15 | Henerfauth, Elisabeth | 1934 |
| A | 9 | 16 | Henerfauth, Leona M. | 05-APR-19?? |
| A | 9 | 17 | Hempel, Johann | 22-MAR-1893 |
| A | 9 | 18 | Hoffmann, Mary | 22-MAR-??41 |
| A | 9 | 19 | Hoffmann, Peter | 1953 |
| A | 9 | 21 | Maeys, Edward | 1954 |
| A | 9 | 22 | Feldmeier, Heinrich | 28-SEP-1895 |
| A | 9 | 23 | E. F. | |
| A | 9 | 25 | Feldmeier, Elisabeth | 14-MAY-1893 |
| A | 9 | 26 | Feldmeier, Sophia | 22-DEC-1890 |
| A | 9 | 27 | Feldmeier, Jacob | 03-SEP-188? |
| A | 9 | 28 | Feldmeier, Wilhelm | 16-JAN-18?? |
| A | 9 | 30 | Kreisc[her], Edward N. | 18-MAR-18?? |
| A | 9 | 31 | Hoffmann, Kathrina | 21-MAY-18?? |
| A | 9 | 33 | Schneider, Albert | 14-JUN-18?? |
| A | 9 | 34 | Mueller, Wilhelm | 02-SEP-189? |
| A | 9 | 35 | Henerfauth, Louisa | 06-JAN-189? |
| A | 9 | 36 | Hoffmann, | 05-APR-189? |
| A | 10 | 6 | Hirsch, Son | 29-MAR-1887 |
| A | 10 | 7 | Knobloch, Jacob | 20-MAR-1887 |
| A | 10 | 9 | Fries, | 1887 |
| A | 10 | 11 | Klein, Philip | 18-DEC-1886 |
| A | 10 | 12 | Grittmann, John | 09-JAN-1886 |
| A | 10 | 13 | Pape, Wilhelmina | xx-DEC-1885 |
| A | 10 | 14 | Jobb, Ludwig | xx-MAR-1885 |
| A | 10 | 15 | Jobb, Margaretha | 25-MAY-1885 |
| A | 10 | 16 | Betz, Emilie | 18-JUN-1884 |
| A | 10 | 17 | Pape, Carl | 21-NOV-1883 |
| A | 10 | 18 | Hempel, Conrad | 22-JUN-1883 |
| A | 10 | 19 | Hoffmann, Catherine Louise | 11-FEB-1883 |
| A | 10 | 21 | Hirsch, Marie M. | 08-DEC-1882 |
| A | 10 | 23 | Thurwachter, Magdalena | 06-MAY-1882 |
| A | 10 | 24 | Kaufmann, Margaretha | 11-NOV-1881 |
| A | 10 | 26 | Buesking, Carl | 08-APR-1888 |
| A | 10 | 27 | Buesking, Charlotta | 10-OCT-1880 |
| A | 10 | 28 | Hoefft, Katherina | 1879 |
| A | 10 | 30 | Schilling, Fredrich | 1880 |
| A | 10 | 32 | Hoffmann, Heinrich | 08-JAN-1880 |
| A | 10 | 33 | Fries, Ludwig Louis | 12-DEC-1879 |
| A | 10 | 34 | Lerch, Fredrich | 14-MAY-1879 |
| A | 11 | 1 | Sutter, Maria | 08-OCT-1888 |
| A | 11 | 2 | Hartmann, Fred | 17-SEP-1888 |
| A | 11 | 3 | Pape, H. C. | 22-APR-1888 |
| A | 11 | 3 | Traxel, | 07-AUG-1888 |
| A | 11 | 4 | Dillenberger, Wilhelmine | 03-JAN-1888 |
| A | 11 | 5 | Schroeder, Wilhelm | 09-JUN-1886 |
| A | 11 | 6 | Maeys, Maria | 22-JUN-1887 |
| A | 11 | 7 | Schatte, Lydia C. | 20-JUN-1887 |
| A | 11 | 8 | Brandt, Heinrich W. | 08-MAY-1887 |
| A | 11 | 9 | Traxel, Wilhelm | 07-JUN-1887 |
| A | 11 | 10 | Fromme, John | 01-MAY-1887 |
| A | 11 | 11 | Brandt, Moritz H. | 24-DEC-1886 |
| A | 11 | 12 | Maeys, Alma | 11-NOV-1886 |
| A | 11 | 13 | Diehl, Philip Jacob | 23-OCT-1886 |
| A | 11 | 15 | Maeys, Emma | 12-JAN-1886 |
| A | 11 | 16 | Steffens, Son of Hy. & C. | 12-APR-1885 |
| A | 11 | 18 | Diehl, Child of Geo. | 14-SEP-1883 |
| A | 11 | 19 | Wetzler, Louisa | 22-MAY-1883 |
| A | 11 | 20 | Hesterberg, Son of H. M. | 13-MAR-1883 |
| A | 11 | 21 | Maeys, Louis W. | 16-FEB-1883 |
| A | 11 | 22 | Hoffman, Catherine | 11-FEB-1883 |
| A | 11 | 23 | Hoffmann, Wilhelm | 05-JAN-1882 |
| A | 11 | 25 | Diehl, | 29-MAR-1882 |
| A | 11 | 26 | Hoffmann, Elisabeth | 23-APR-1882 |
| A | 11 | 28 | Kaufmann, Sebilla | 27-MAR-1881 |
| A | 11 | 29 | Kaufmann, Maria | 19-MAR-1881 |
| A | 11 | 31 | Kaufmann, Peter | 14-MAY-1880 |
| A | 11 | 33 | Hoffmann, George | 18-APR-1880 |
| A | 11 | 34 | Hoffmann, Jacob | 06-MAY-1883 |
| A | 11 | 36 | Hesterberg, Mina | 14-JUN-1879 |
| A | 12 | 3 | Knobloch, Juline | 16-FEB-1887 |
| A | 12 | 5 | Dreps, Anton | 07-MAR-1887 |
| A | 12 | 6 | Schroeder, Maria | 17-DEC-1887 |
| A | 12 | 7 | Bade, Heinrich | 29-FEB-1888 |
| A | 12 | 9 | Kampmeier, Augusta | 11-MAR-1888 |
| A | 12 | 10 | Kampmeier, F. W. | 11-NOV-1888 |
| A | 12 | 12 | Hesterberg, Carl | 13-DEC-1888 |
| A | 12 | 13 | Pryor, Emma | 12-SEP-1900 |
| A | 12 | 14 | Alheim, Barbara | 07-MAR-1890 |
| A | 12 | 15 | Wilson, Anna | 11-NOV-1889 |
| A | 12 | 16 | Hesterberg, Wilhelmine | 13-APR-1890 |
| A | 12 | 17 | DeBuhr, Gesina | 20-DEC-1990 |
| A | 12 | 19 | Henerfauth, Heline | 15-JUN-1891 |
| A | 12 | 20 | Juelfs, Wilhelmine | 06-AUG-1891 |
| A | 12 | 21 | Schroth, Herman | 30-OCT-1891 |
| A | 12 | 22 | Lohkamp, Carl | 01-DEC-1891 |
| A | 12 | 23 | Dillenberger, Maria | 18-JAN-1892 |
| A | 12 | 24 | Brandt, Sybilla | 15-JUN-1892 |
| A | 12 | 25 | Sutter, Nicholus | 30-JUL-1892 |
| A | 12 | 26 | Schilling, Magdalena | 18-OCT-1892 |
| A | 12 | 27 | Steffens, Detrich | 13-NOV-1892 |
| A | 12 | 28 | Klein, Johann | 13-JAN-1893 |
| A | 12 | 30 | Berger, Mathilda | 1893 |
| A | 12 | 31 | Hoefft, August | 02-OCT-1893 |
| A | 12 | 32 | Hesterberg, Gottlieb | 29-DEC-1893 |
| A | 12 | 34 | Klumb, Thobe | 07-MAR-1894 |
| A | 12 | 35 | Faust, Karolina | 13-MAR-1894 |
| A | 12 | 36 | Thuerwachter, Fronz | 08-OCT-1894 |
| A | 13 | 6 | Hesterberg, Philippine | 12-APR-1955 |
| A | 13 | 7 | Hesterberg, Fred | 25-FEB-1917 |
| A | 13 | 8 | Hesterberg, Helena | 20-OCT-1894 |
| A | 13 | 9 | Klingelberg, Johanna | 1894 |
| A | 13 | 10 | Jansen, Maria | 06-JAN-1895 |
| A | 13 | 11 | Wiedner, Johann | 03-FEB-1895 |
| A | 13 | 12 | DeBuhr, Jacob | 16-FEB-1895 |
| A | 13 | 13 | Sickmeier, Carl | 26-FEB-1895 |
| A | 13 | 14 | Robinson, Joseph | 28-MAR-1895 |
| A | 13 | 15 | Trost, Magdalena | 02-OCT-1895 |
| A | 13 | 16 | Ordinger, Louise | 04-OCT-1895 |
| A | 13 | 17 | Morcalf, Johann | 17-OCT-1895 |
| A | 13 | 18 | Diehl, George | 18-OCT-1895 |
| A | 13 | 19 | Dillenberger, Philip | 01-JAN-1896 |
| A | 13 | 20 | Hoefft, Wilhelm | 29-SEP-1896 |
| A | 13 | 21 | Losse, Wm. | 14-SEP-1896 |
| A | 13 | 22 | Brandt, Emma | 11-OCT-1896 |
| A | 13 | 23 | Stiekmeier, Elisabeth | 16-OCT-1896 |
| A | 13 | 24 | Nottmeier, Fredrich | 16-OCT-1896 |
| A | 13 | 26 | Bade, Katherine | 04-MAY-1897 |
| A | 13 | 27 | Edler, Christena | 10-MAY-1897 |
| A | 13 | 28 | Schroeder, Carolline | 05-AUG-1897 |
| A | 13 | 29 | Knobloch, Christina | 06-NOV-1897 |
| A | 13 | 30 | Schatte, Anna | 14-DEC-1897 |
| A | 13 | 31 | Hennerfauth, Sharlotta | 13-MAR-1898 |
| A | 13 | 32 | Meister, Friderita | 23-MAR-1898 |
| A | 13 | 33 | Gritmann, Rosina | 18-APR-1896 |
| A | 13 | 34 | Steffens, Christian | 12-AUG-1898 |
| A | 13 | 35 | Hohmeier, Christian | 12-AUG-1898 |
| A | 13 | 36 | , Johann | 31-NOV-1898 |
| A | 13 | 37 | Schmidt, Philip | 1899 |
| A | 14 | 4 | Stockel, Eva Catherine | 24-JAN-1895 |
| A | 14 | 5 | Knobloch, Karl | 28-FEB-1895 |
| A | 14 | 6 | Seeger, Louis | 11-MAR-1895 |
| A | 14 | 7 | Seeger, Heinrich | 12-MAR-1895 |
| A | 14 | 8 | Faus, Wilhelm | 13-MAR-1895 |
| A | 14 | 9 | Rippelmeyer, Lenore | 30-APR-1895 |
| A | 14 | 10 | Stiekmeier, Maria | 16-JUL-1895 |
| A | 14 | 11 | Heterberg, Helene | 18-JUL-1895 |
| A | 14 | 12 | Faust, Andress | 30-JUL-1895 |
| A | 14 | 13 | Hirsch, Friedrich | 05-JAN-1896 |
| A | 14 | 15 | Mueller, Elsa | 27-JUN-1896 |
| A | 14 | 17 | Deihl, George | 08-AUG-1896 |
| A | 14 | 18 | N. B. | |
| A | 14 | 19 | Dreps, Margaretta | 26-SEP-1866 |
| A | 14 | 20 | Hoffmann, Kathrina | |
| A | 14 | 21 | Mueller, Ludwig U. | 15-OCT-1896 |
| A | 14 | 22 | Dillenberger, Johann | 09-JAN-1897 |
| A | 14 | 23 | Mueller, Charlotta | 20-JAN-1897 |
| A | 14 | 24 | Klein, Wm. | 01-JUL-1897 |
| A | 14 | 26 | Faus, Carolina | 07-SEP-1897 |
| A | 14 | 27 | Roever, Philip C. | 13-NOV-1897 |
| A | 14 | 28 | Faust, Heinrich | 19-DEC-1897 |
| A | 14 | 29 | Hoffmann, Walter | 16-DEC-1897 |
| A | 14 | 30 | Asselmeier, Ida | 05-FEB-1898 |
| A | 14 | 31 | Bodenbach, Jacob | 04-MAY-1898 |
| A | 14 | 32 | Vallowe, Herbert | 10-FEB-1898 |
| A | 14 | 33 | Marker | |
| A | 14 | 34 | Trost, Amanda | 04-MAR-1900 |
| A | 14 | 35 | Vallowe, Nelda Maria | 07-JUN-1900 |
| A | 14 | 36 | Faust, Wilhelm | 17-JUN-1900 |
| A | 14 | 37 | Dillenberger, Geo. | 29-AUG-1900 |
| A | 14 | 38 | Pape, Anna | 14-NOV-1900 |
| A | 15 | 2 | Meyer, Son of Heinrih | |
| A | 15 | 3 | Marker | |
| A | 15 | 4 | Bernaking, Karl | 17-MAR-1899 |
| A | 15 | 5 | Wiedner, Christoph | 13-APR-1899 |
| A | 15 | 7 | Marker | |
| A | 15 | 9 | Klostermann, Johann | 02-JAN-1900 |
| A | 15 | 10 | Henerfauth, Johann | 15-FEB-1900 |
| A | 15 | 11 | Horneffer, Maggie | 28-FEB-1899 |
| A | 15 | 12 | Lohkamp, Maria C. | 24-MAY-1900 |
| A | 15 | 13 | Marker | |
| A | 15 | 15 | Dreps, Sebastian | 04-FEB-1901 |
| A | 15 | 16 | Marker | |
| A | 15 | 17 | Henerfauth, Elizabeth | 13-OCT-1901 |
| A | 15 | 18 | Trost, Wilhelm | 31-DEC-1901 |
| A | 15 | 19 | Meister, George | 09-JAN-1902 |
| A | 15 | 20 | Bodenbach, Mathilda | 31-JAN-1902 |
| A | 15 | 21 | Hempe, Minnie | 02-JAN-1903 |
| A | 15 | 23 | Hoerr, Fredrich | 16-SEP-1903 |
| A | 15 | 24 | Hoffmann, Philipina | 04-NOV-1904 |
| A | 15 | 25 | Faust, Maria | 24-DEC-1904 |
| A | 15 | 26 | Asselmeier, Kathrine | 16-JUN-1905 |
| A | 15 | 27 | Gerber, Jacob | 03-JUL-1905 |
| A | 15 | 28 | Bickelhaupt, Lydia | 10-SEP-1905 |
| A | 15 | 29 | Meister, Elizabeth | 22-SEP-1905 |
| A | 15 | 30 | Fries, Elizabeth | 27-SEP-1905 |
| A | 15 | 31 | Schroth, Anna | 10-OCT-1905 |
| A | 15 | 32 | Asselmeier, Heinrich | 09-MAR-1906 |
| A | 15 | 33 | Asselmeier, Christine | 14-NOV-1914 |
| A | 16 | 1 | Hoefft, Charlotte | 1914 |
| A | 16 | 2 | Hoefft, Wm. | 18-NOV-1914 |
| A | 16 | 3 | Hoefft, Walter | 17-JAN-1911 |
| A | 16 | 4 | Hoefft, Luella | 21-MAR-1910 |
| A | 16 | 5 | Hoefft, Wilhelm | 24-DEC-1900 |
| A | 16 | 7 | Trost, Arthur | 25-JUN-1901 |
| A | 16 | 8 | Hesterberg, Emil | 29-JUN-1901 |
| A | 16 | 9 | Henerfauth, Louis Ludwig | 06-NOV-1901 |
| A | 16 | 10 | Roever, Adele Emile | 12-DEC-1901 |
| A | 16 | 11 | Pape, Catherine | 25-DEC-1901 |
| A | 16 | 12 | Klostermann, Luella | 08-JUN-1902 |
| A | 16 | 13 | Hoffmann, Jacob L. | 06-FEB-1902 |
| A | 16 | 15 | Trost, Carolina | 24-DEC-1903 |
| A | 16 | 16 | Roever, Emma M. | 05-MAR-1904 |
| A | 16 | 17 | Klein, Hulda R. | 22-AUG-1904 |
| A | 16 | 18 | Mueller, Hilda K. | 13-OCT-1904 |
| A | 16 | 19 | Fauss, Otto J. | 22-NOV-1905 |
| A | 16 | 20 | Fauss, Clayburn | 29-JAN-1906 |
| A | 16 | 21 | Hirsch, Alvin G. | 10-JUL-1906 |
| A | 16 | 22 | Fritch, Theodore | 23-SEP-1906 |
| A | 16 | 23 | Faus, Hulda C. | 12-NOV-1907 |
| A | 16 | 24 | Klingelberg, Nelda | 14-MAR-1910 |
| A | 16 | 25 | Buesking, Magdalena | 30-JAN-1911 |
| A | 16 | 27 | Trost, Nelson A. | 16-JAN-1912 |
| A | 16 | 28 | Trost, Oscar L. | 18-JAN-1912 |
| A | 16 | 29 | Schatte, Edward K. | 12-NOV-1912 |
| A | 16 | 30 | Asselmeier, Lucinda | 23-MAR-1913 |
| A | 16 | 32 | Trost, Clara | 18-MAY-1913 |
| A | 16 | 33 | Trost, Lucille | 20-MAY-1914 |
| A | 16 | 35 | Valentine, Harold L. | 17-APR-1917 |
| A | 16 | 36 | Geist, Ernest | 27-FEB-1917 |
| A | 16 | 37 | Krone, Walter | 21-APR-1917 |
| A | 16 | 38 | Hergenroeder, Lorena | 05-JAN-1919 |
| A | 17 | 7 | Priesseer, Madgeline Beatte | 29-DEC-1906 |
| A | 17 | 8 | Valentine, Raymond | 04-JAN-1901 |
| A | 17 | 9 | Roever, Fredrick | 07-JUL-1907 |
| A | 17 | 10 | Roever, Clara L. | 20-JUL-1907 |
| A | 17 | 12 | Asselmeier, Leoda | 15-FEB-1908 |
| A | 17 | 13 | Valentine, Milford | 26-SEP-1908 |
| A | 17 | 14 | B. E. | |
| A | 17 | 16 | Fries, Elsa C. | 26-AUG-1909 |
| A | 17 | 17 | Faus, Daughter of L. & E. | 25-OCT-1909 |
| A | 17 | 18 | Hesterberg, Armin | 18-DEC-1910 |
| A | 17 | 20 | Brandt, Adella M. | 18-JAN-1911 |
| A | 17 | 21 | Fauss, Louis Arnold | 15-APR-1911 |
| A | 17 | 22 | Brandt, Victor L. | 16-JUL-1911 |
| A | 17 | 23 | Fauss, Daughter of H. | 20-DEC-1911 |
| A | 17 | 25 | Pape, Daughter of W. & M. | 10-JAN-1915 |
| A | 17 | 26 | Wetzler, Orlu Emma | 08-FEB-1915 |
| A | 17 | 27 | Dreps, Harvey | 30-MAR-1915 |
| A | 17 | 28 | Roever, Carl | 13-AUG-1915 |
| A | 17 | 30 | Faus, Daugther of L. & E. | 27-JUL-1916 |
| A | 17 | 31 | Edler, Son of G. & M. | 14-AUG-1917 |
| A | 17 | 32 | Trost, Fred | 20-DEC-1917 |
| A | 17 | 33 | Sutter, Nelda M. | 22-MAR-1918 |
| A | 18 | 24 | Pape, Infant | 1942 |
| A | 18 | 25 | Pape, Robert G. | 05-FEB-1924 |
| A | 18 | 26 | Henerfauth, Oneida | 11-APR-1923 |
| A | 18 | 27 | Schatte, Clarence | 10-APR-1923 |
| A | 18 | 29 | Dreps, Willis A. | 25-NOV-1919 |
| A | 18 | 31 | Henerfauth, Selma K. | 25-JUN-1920 |
| A | 18 | 32 | Freidrichs, Heinrich | 23-DEC-1920 |
| A | 18 | 33 | Schatte, Roland | 18-AUG-1921 |
| B | 1 | 4 | Heinz, Charlotte | 1906 |
| B | 1 | 5 | Buesking, Carl | 1906 |
| B | 1 | 6 | Ebel, Adam | 1906 |
| B | 1 | 7 | Ebel, Marie | 1907 |
| B | 1 | 9 | Lueking, Friedrich | 1907 |
| B | 1 | 10 | Fries, Johann | 1907 |
| B | 1 | 11 | Asselmeier, Herman | 1907 |
| B | 1 | 12 | Kriescher, Olga | 1907 |
| B | 1 | 13 | Diehl, Wm. | 1907 |
| B | 1 | 14 | Fries, Elisabeth | 1908 |
| B | 1 | 15 | Knobloch, Wm. | 1908 |
| B | 1 | 16 | Rahn, Jacob | 1908 |
| B | 1 | 18 | Hoffmann, Sybilla | 1908 |
| B | 1 | 19 | Van Buren, Jacob | 1909 |
| B | 1 | 20 | Lerch, Chas. | 12-APR-1909 |
| B | 1 | 21 | Hoffmann, Wilhelmine | 1909 |
| B | 1 | 22 | Schmidt, Philip | 1909 |
| B | 1 | 23 | Valentine, Katherine | 1909 |
| B | 1 | 24 | Diehl, Nicalaus | 1909 |
| B | 1 | 25 | Schilling, Henrich | 1909 |
| B | 1 | 26 | Schatte, Friedrich | 1910 |
| B | 1 | 27 | Hoffmann, George | 1910 |
| B | 1 | 28 | Bade, Christian | 1910 |
| B | 1 | 29 | Hoffmann, Katherine | 1910 |
| B | 1 | 31 | Zeis, Jacob | 1911 |
| B | 1 | 33 | Loeffler, Carolina | 1911 |
| B | 1 | 34 | Hoerr, Katherina | 1911 |
| B | 1 | 35 | Schilling, Frederick | 1912 |
| B | 1 | 36 | Knobloch, Katherina | 1912 |
| B | 2 | 1 | Fauss, Daniel (Danial on stone) | 1935 |
| B | 2 | 2 | Fauss, Elisabeth (Elizabeth on stone) | 1913 |
| B | 2 | 3 | Meister, Carl | 1913 |
| B | 2 | 4 | Hoefft, Therese | 1913 |
| B | 2 | 5 | Bodenbach, Philip | 1913 |
| B | 2 | 6 | Doerr, Kathrina | 1914 |
| B | 2 | 7 | Althoff, Maria | 1914 |
| B | 2 | 8 | Nottmeier, Louisa | 1914 |
| B | 2 | 9 | Brandt, Wilhelmina | 1914 |
| B | 2 | 10 | Trost, Johannes | 1915 |
| B | 2 | 11 | Trost, Wilhelmine | 1915 |
| B | 2 | 12 | Wild, Henry | 1915 |
| B | 2 | 13 | Klein, Sophia | 1915 |
| B | 2 | 14 | Koch, Carl | 1915 |
| B | 2 | 15 | Maeys, Jacob | 1915 |
| B | 2 | 16 | Hoerr, Jacob | 1916 |
| B | 2 | 17 | Hartmann, Elisabeth | 1916 |
| B | 2 | 18 | Hesterberg, Charlotte | 1916 |
| B | 2 | 19 | Hesterberg, Fred | 1923 |
| B | 2 | 20 | Leber, Reinhard | 1916 |
| B | 2 | 21 | Leber, Emma | 1951 |
| B | 2 | 22 | Fauss, Wilhelm | 1922 |
| B | 2 | 23 | Fauss, Caroline | 1916 |
| B | 2 | 24 | Grabe, Peter | 1916 |
| B | 2 | 25 | Schilling, Christine | 1916 |
| B | 2 | 27 | Wessel, John Hy. | 1916 |
| B | 2 | 28 | Wessel, Charlotte | 1917 |
| B | 2 | 29 | Krone, Louis | 1945 |
| B | 2 | 30 | Krone, Philipine | 1917 |
| B | 2 | 31 | Doerr Sr., Jacob | 1917 |
| B | 2 | 32 | Straub, Adolph | 1917 |
| B | 2 | 33 | Asselmeier, Armin | 1917 |
| B | 2 | 34 | Roever, Albert | 1917 |
| B | 2 | 36 | Faust, Jacob | 1917 |
| B | 3 | 1 | Hesterberg, Henry | 1917 |
| B | 3 | 2 | Bade, Wm. | 1918 |
| B | 3 | 3 | Hoerr, John | 1918 |
| B | 3 | 5 | Hoffmann, Christine | 1958 |
| B | 3 | 6 | Hoffmann, Hy. | 1918 |
| B | 3 | 7 | Kaho, Frieda | 1918 |
| B | 3 | 8 | Lossie, Ed. | 1918 |
| B | 3 | 9 | Hoffmann, Anna | 1918 |
| B | 3 | 10 | Hoffmann, John | 1961 |
| B | 3 | 11 | Henerfauth, Alice | 1918 |
| B | 3 | 12 | Brandt, Philip | 1918 |
| B | 3 | 13 | Brandt, Roy | 1919 |
| B | 3 | 14 | Hoerr, Ferdinand | 1919 |
| B | 3 | 15 | Schmidt, Paul A. | 1919 |
| B | 3 | 16 | Trost, Wm. | 1940 |
| B | 3 | 17 | Trost, Sophia | 1919 |
| B | 3 | 18 | Rahn, Wilhelmine | 1919 |
| B | 3 | 19 | Rahn, John | 1968 |
| B | 3 | 20 | Hesterberg, August | 1919 |
| B | 3 | 21 | Jobb, Jacob | 1919 |
| B | 3 | 22 | Jobb, Gertrude | 1931 |
| B | 3 | 23 | Jobb, Jacob | 1941 |
| B | 3 | 24 | Steffens, Hy. | 1929 |
| B | 3 | 25 | Asselmeier, Paul | 1920 |
| B | 3 | 26 | Berg, Marie | 1920 |
| B | 3 | 27 | Berg, Fred | 1960 |
| B | 3 | 28 | Doerr, John | 1920 |
| B | 3 | 29 | Doerr, Elizabeth | 03-JUN-1975 |
| B | 3 | 30 | Trost, Hulda | 1920 |
| B | 3 | 31 | Mueller, Henry | 1920 |
| B | 3 | 32 | Mueller, Catherine | 1941 |
| B | 3 | 33 | Gerber, Louise | 1921 |
| B | 4 | 1 | Klamp, Charles | 1931 |
| B | 4 | 2 | Klamp, Charlotte | 1947 |
| B | 4 | 3 | Doerr, Fred | 1934 |
| B | 4 | 4 | Doerr, Wilhelmine | 1921 |
| B | 4 | 5 | Asselmeier, Hy. | 1933 |
| B | 4 | 6 | Asselmeier, Catherine | 1921 |
| B | 4 | 7 | Sutter, Emma | 1921 |
| B | 4 | 8 | Schmidt, Kathrina | 1921 |
| B | 4 | 9 | Schmidt, Fred | 1970 |
| B | 4 | 10 | Mueller, Albert | 1921 |
| B | 4 | 11 | Mueller, Geo. | 1937 |
| B | 4 | 12 | Mueller, Charlotta | 1932 |
| B | 4 | 13 | Mueller, Elisabeth | 1981 |
| B | 4 | 14 | Fries, Katherina | 1921 |
| B | 4 | 15 | Diehl, Jacob | 1921 |
| B | 4 | 16 | Deihl, Katharina | 1926 |
| B | 4 | 17 | Wetzler, Elizabeth | 1921 |
| B | 4 | 18 | Wetzler, Willis | 1939 |
| B | 4 | 19 | Trost, Luella | 1921 |
| B | 4 | 20 | Hoffmann, Adam | 1921 |
| B | 4 | 21 | Hoffmann, Jacob | 1922 |
| B | 4 | 22 | Horniffer, Amos | 1922 |
| B | 4 | 23 | Hergenroder, Geo. | 1922 |
| B | 4 | 24 | Hergenroeder, Hattie | 1972 |
| B | 4 | 25 | Hoefft, Chas. | 1922 |
| B | 4 | 26 | Hoefft, Margaret | 1978 |
| B | 4 | 27 | Hoffmann, Elisabeth | 1922 |
| B | 4 | 28 | Hoffmann, Geo. | 1926 |
| B | 4 | 29 | Wetzler, Caroline | 1922 |
| B | 4 | 30 | Wetzler, Wm. | 1934 |
| B | 4 | 31 | Hirsch, Lena | 1922 |
| B | 4 | 32 | Roever, Margaretha | 1923 |
| B | 4 | 33 | Roever Sr., Fred | 1926 |
| B | 4 | 34 | Berg, Wm. | 1923 |
| B | 4 | 35 | Roever, Louis | 1923 |
| B | 4 | 36 | Roever, Barbara | 1949 |
| B | 5 | 1 | Maeys, Wm. | 1923 |
| B | 5 | 2 | Maeys, Margaret | 1931 |
| B | 5 | 3 | Henerfauth, Mena | 1923 |
| B | 5 | 4 | Henerfauth, Jacob | 1965 |
| B | 5 | 5 | Valente, Christine | 1923 |
| B | 5 | 6 | Res. | |
| B | 5 | 7 | Weidner, Catherine | 1924 |
| B | 5 | 8 | Faus, Katherine | 1924 |
| B | 5 | 9 | Dreps, Edward C | 1924 |
| B | 5 | 10 | Dreps, Louisa | 1931 |
| B | 5 | 11 | Lehman, Christian | 1924 |
| B | 5 | 12 | Bodenbach, Caroline | 1924 |
| B | 5 | 13 | Dillenberger, Wm. | 1925 |
| B | 5 | 14 | Dillenberger, Anna | 1925 |
| B | 5 | 15 | Hoffmann, Lydia | 1925 |
| B | 5 | 16 | Doerr, Jacob | 1925 |
| B | 5 | 17 | Doerr, Catherine | 1950 |
| B | 5 | 18 | Maeys, Geo. (George) | 1925 |
| B | 5 | 19 | Maeys, Marie | 1946 |
| B | 5 | 20 | Dillenberger, Emma | 1926 |
| B | 5 | 21 | Wagner, Isadore | 1926 |
| B | 5 | 22 | Hoffmann, Catherine | 1926 |
| B | 5 | 23 | Hoffmann, Chas. | 1926 |
| B | 5 | 24 | Henke, Emma | 1926 |
| B | 5 | 25 | Henke, Chas. | 1977 |
| B | 5 | 26 | Holzmeier, Wm. | 1926 |
| B | 5 | 27 | Hirsch, Gustav | 1926 |
| B | 5 | 28 | Hirsch, Catherina | 1948 |
| B | 5 | 30 | Holzmeier, Mathilda | 1927 |
| B | 5 | 31 | Schulden, Edna | 1928 |
| B | 5 | 32 | DeBuhr, Mary | 1926 |
| B | 5 | 33 | Lohkamp, Carl | 1927 |
| B | 5 | 34 | Floerke, Chas. | 1927 |
| B | 5 | 35 | Floerke, Minie | 1933 |
| B | 6 | 1 | Pape, Clyde | 1924 |
| B | 6 | 2 | Brandt, Luella | 1924 |
| B | 6 | 4 | Brandt, Baby | |
| B | 6 | 5 | Hoffmann, Geraldine | 1931 |
| B | 6 | 6 | Hoffmann, Fredrich | 1931 |
| B | 6 | 7 | Price, Edwin Earl | 1934 |
| B | 6 | 8 | Knobloch, Frieda | 1941 |
| B | 6 | 9 | Hoefft, Sharon | 1945 |
| B | 6 | 10 | Knobloch, Syl. | 1945 |
| B | 6 | 11 | Hoffmann, Baby | 1946 |
| B | 6 | 12 | Faus, Baby | 1947 |
| B | 6 | 13 | Ferenz, Gerald | 1952 |
| B | 6 | 14 | Trost, Donna Kay | 1955 |
| B | 6 | 15 | Rahn, Baby | 1962 |
| B | 6 | 16 | Harsey, Richard Allen | 1970 |
| B | 6 | 17 | Novaka, Kathy Ann | 1971 |
| B | 7 | 2 | Hoffmann, Anna | 1928 |
| B | 7 | 3 | Meister, Katharine | 1928 |
| B | 7 | 4 | Fries, Anna | 1928 |
| B | 7 | 5 | Fries, Jacob | 1929 |
| B | 7 | 6 | Polley, Elsie | 1928 |
| B | 7 | 7 | Krone, Louis | 1928 |
| B | 7 | 8 | Asselmeier, Fred | 1951 |
| B | 7 | 9 | Asselmeier, Elisabeth | 1963 |
| B | 7 | 10 | Boyer, Alfred | 1929 |
| B | 7 | 11 | McFadden, Sadie Boxer | 1965 |
| B | 7 | 12 | Baum, Berthold | 1929 |
| B | 7 | 15 | Krone, Carl | 1929 |
| B | 7 | 16 | Krone, Marie | 1951 |
| B | 7 | 17 | Lueking, Louise | 1929 |
| B | 7 | 18 | Schatte, Hy. | 1929 |
| B | 7 | 19 | Henerfauth, Philip | 1929 |
| B | 7 | 20 | Wolf, Christina | 1930 |
| B | 7 | 21 | Fauss, Louis | 1944 |
| B | 7 | 22 | Fauss, Marie | 1930 |
| B | 7 | 23 | Schmidt, Henrietta | 1930 |
| B | 7 | 24 | Brandt, Moritz | 1930 |
| B | 7 | 25 | Trost, Adam | 1930 |
| B | 7 | 26 | Trost, Ida | 1938 |
| B | 7 | 27 | Brandt, Elisabeth | 1931 |
| B | 7 | 28 | Brandt, Wm. | 1946 |
| B | 7 | 29 | Gilbert, Jacob | 1931 |
| B | 7 | 30 | Gilbert, Elisabeth | 1931 |
| B | 7 | 31 | Schatte, Aug. | 1931 |
| B | 7 | 32 | Schatte, Caroline | 1979 |
| B | 7 | 33 | Wagner, Adam | 1931 |
| B | 7 | 34 | Schneider, Nicholas | 1931 |
| B | 7 | 35 | Schneider, Anna | 1935 |
| B | 7 | 36 | Pape, Herman | 1931 |
| B | 7 | 37 | Pape, Mary | 1938 |
| B | 8 | 1 | Henerfauth, Mary | 1932 |
| B | 8 | 2 | Faus, Elnora | 1933 |
| B | 8 | 3 | Faus Jr., Louis | 1946 |
| B | 8 | 4 | Klostermann, Louise | 1933 |
| B | 8 | 5 | Diehl, Elisabeth | 1932 |
| B | 8 | 6 | Hesterberg, Emma | 1933 |
| B | 8 | 7 | Hesterberg, Elisabeth | 1967 |
| B | 8 | 8 | Fauss, Christian | 1933 |
| B | 8 | 9 | Fauss, Elizabeth | 1939 |
| B | 8 | 10 | Klein, John | 1934 |
| B | 8 | 11 | Klein, Bertha | 1941 |
| B | 8 | 12 | Trost, Hy. | 1933 |
| B | 8 | 13 | Hoffmann, Catherine | 1934 |
| B | 8 | 14 | Hoffmann, John | 1935 |
| B | 8 | 15 | Wagner, Willis | 1934 |
| B | 8 | 16 | Asselmeier, Christine | 1934 |
| B | 8 | 17 | Asselmeier, Chas. | 1935 |
| B | 8 | 18 | Sutter, Jacob | 1935 |
| B | 8 | 19 | Sutter, Gertrude | 1935 |
| B | 8 | 20 | Geist, Jacob | 1935 |
| B | 8 | 21 | Geist, Mary | 1941 |
| B | 8 | 22 | Klingelberg, Maria | 1935 |
| B | 8 | 23 | Klingelberg, Louis | 1940 |
| B | 8 | 24 | Kuergeleis, Harold | 1936 |
| B | 8 | 25 | Brandt, Elisabeth | 1936 |
| B | 8 | 26 | Miller, Jacob | 1936 |
| B | 8 | 27 | Miller, Gertrude | 1949 |
| B | 8 | 28 | Baum, Roy | 1936 |
| B | 8 | 29 | Res. | |
| B | 8 | 30 | Borcharding, Henry | 1936 |
| B | 8 | 31 | Borcharding, Mena | 15-MAY-1974 |
| B | 8 | 32 | Rogenhofer, Lepold | 1936 |
| B | 8 | 33 | Boyer, Margaret | 1936 |
| B | 8 | 34 | Roever, Fred | 1940 |
| B | 8 | 35 | Stamm, Lydia | 1937 |
| B | 8 | 36 | Stamm, Conrad | 1956 |
| B | 9 | 1 | Scheibe, Max | 1939 |
| B | 9 | 2 | Scheibe, Catherine Marie | 1959 |
| B | 9 | 3 | Hesterberg, Earl | 1939 |
| B | 9 | 4 | Leber, Anna | 1939 |
| B | 9 | 5 | Leber, Louis | 1959 |
| B | 9 | 6 | Wetzler, Jacob | 1939 |
| B | 9 | 7 | Wetzler, Emma | 1960 |
| B | 9 | 8 | Fromme, Herman | 1940 |
| B | 9 | 9 | Schilling, Henry | 1940 |
| B | 9 | 10 | Schilling, Emma | 1950 |
| B | 9 | 11 | Gerber, Wilbert | 1945 |
| B | 9 | 12 | Gerber, Charles | 1945 |
| B | 9 | 13 | Gerber, Katie | 15-DEC-1985 |
| B | 9 | 14 | Altes, Elisabeth | 1941 |
| B | 9 | 15 | Altes Sr., Wm. | 1955 |
| B | 9 | 16 | Dick, Wilhelmina | 1941 |
| B | 9 | 17 | Dick, Ferdinand | 1949 |
| B | 9 | 18 | Edler, George | 1942 |
| B | 9 | 19 | Res. | |
| B | 9 | 20 | Fauss, Caroline | 1942 |
| B | 9 | 21 | Fauss, Jacob | 1959 |
| B | 9 | 22 | Fromme, Hy. | 1942 |
| B | 9 | 23 | Fromme, Caroline | 1946 |
| B | 9 | 24 | Wagner, Philip | 1943 |
| B | 9 | 25 | Wagner, Geo. | 1945 |
| B | 9 | 26 | Fries, Hy. (Henry on stone) | 1943 |
| B | 9 | 27 | Fries, Katie | 1944 |
| B | 9 | 28 | Asselmeier, William | 1944 |
| B | 9 | 29 | Asselmeier, Margaretha | 1958 |
| B | 9 | 30 | Lau[r]ent, Charles | 1944 |
| B | 9 | 31 | Laurent, Nelda | 1950 |
| B | 9 | 32 | Hoffmann, Mary | 1944 |
| B | 9 | 33 | Hoffmann, Gustav | 1945 |
| B | 9 | 34 | Gerber, Jacob | 1945 |
| B | 9 | 35 | Schatte, Wm. | 1945 |
| B | 9 | 36 | Schatte, Christine | xx-JAN-1987 |
| B | 10 | 1 | Hoffmann, Fred | 1947 |
| B | 10 | 2 | Hoffmann, Margaret | 1947 |
| B | 10 | 3 | Hensen, Elisabeth | 1947 |
| B | 10 | 4 | Hensen, James | 1958 |
| B | 10 | 5 | Weidner, Fred | 1947 |
| B | 10 | 6 | Weidner, Mary | 1961 |
| B | 10 | 7 | Hoffmann, Ted | 1948 |
| B | 10 | 8 | Gerber, Christian | 1948 |
| B | 10 | 9 | Kuergeleis, George | 1978 |
| B | 10 | 10 | Kuergeleis, Rosa | 13-MAY-1973 |
| B | 10 | 11 | Rippelmeyer, Mary | 1948 |
| B | 10 | 12 | Rippemeyer, Louis | 26-MAR-1975 |
| B | 10 | 13 | Pape, Wm. | 1948 |
| B | 10 | 14 | Pape, Minnie | 1953 |
| B | 10 | 15 | Buesking, Elisabeth | 1949 |
| B | 10 | 16 | Hoerr, Hy. | 1949 |
| B | 10 | 17 | Hoerr, Emma | 1968 |
| B | 10 | 18 | Henerfauth, Geo. | 1949 |
| B | 10 | 19 | Roever, Bertha | 1949 |
| B | 10 | 20 | Roever, Wm. | 1977 |
| B | 10 | 21 | Roever, Richard | 1960 |
| B | 10 | 23 | Klostermann, Mary | 1949 |
| B | 10 | 24 | Klostermann, Herman | 1966 |
| B | 10 | 25 | Heitzenroeder, Adam | 1949 |
| B | 10 | 26 | Heitzenroeder, Hulda M. | 1970 |
| B | 10 | 27 | Feldmeier, Hy. C. | 1949 |
| B | 10 | 28 | Feldmeier, Amanda | 1957 |
| B | 10 | 29 | Hesterberg, Wm. | 1950 |
| B | 10 | 30 | Hesterberg, Ida M. | 1957 |
| B | 10 | 31 | Brandt, Albert | 1950 |
| B | 10 | 32 | Hoffmann, Hy. | 1950 |
| B | 10 | 33 | Hoffmann, Alma | xx-JUL-1985 |
| B | 10 | 34 | Kuergeleis, Anna | 1950 |
| B | 10 | 35 | Kuergeleis, Fred | 1965 |
| B | 11 | 1 | Pape, Hulda | 1951 |
| B | 11 | 2 | Pape, Louis | 1977 |
| B | 11 | 3 | Asselmeier, Olinda | 1951 |
| B | 11 | 4 | Schneider, Harold | 1952 |
| B | 11 | 5 | Schneider, Christoph | 1955 |
| B | 11 | 6 | Schnedier, Catherine | 1962 |
| B | 11 | 7 | Schlemmer, Geo. | 1952 |
| B | 11 | 9 | Hoffmann, Hilda A. | 1952 |
| B | 11 | 10 | Hoffmann, Herman | 21-JUN-1987 |
| B | 11 | 11 | Meister, Charles | 1953 |
| B | 11 | 12 | Meister, Christine | 1960 |
| B | 11 | 13 | Fries, Lena | 1953 |
| B | 11 | 14 | Fries, John | 1958 |
| B | 11 | 15 | Klein, Elsie | 1954 |
| B | 11 | 16 | Brandt, Geo. | 1954 |
| B | 11 | 17 | Hoefft, Elizabeth | 1981 |
| B | 11 | 18 | Hoefft, Sebastian | 1955 |
| B | 11 | 19 | Hoefft, Elisabeth | 27-OCT-1981 |
| B | 11 | 20 | Fauss, Mary A. | 1955 |
| B | 11 | 21 | Fauss, Louis D. | 1956 |
| B | 11 | 22 | Faus, Emma | 1956 |
| B | 11 | 23 | Faus, Albert | 1967 |
| B | 11 | 24 | Faus, Raymond | 1956 |
| B | 11 | 26 | Kuergeleis, Louis | 1957 |
| B | 11 | 27 | Kuergeleis, Marie | 11-FEB-1985 |
| B | 11 | 28 | Meister, George | 1957 |
| B | 11 | 29 | Pape, Hy. | 1957 |
| B | 11 | 30 | Pape, Hilda | 1977 |
| B | 11 | 31 | Edler, Rose | 1957 |
| B | 11 | 32 | Edler, Charles | 1968 |
| B | 11 | 33 | Trost, Albert | 1957 |
| B | 11 | 35 | Trost, Hulda (stone says Holda C. E.) | 1964 |
| B | 12 | 1 | Hoffmann, Edwin | 1957 |
| B | 12 | 3 | Fries, Walter | 1958 |
| B | 12 | 4 | Enderlin, Bertha | |
| B | 12 | 5 | Rippelmeyer, Frieda | 1958 |
| B | 12 | 6 | Rippelmeyer, Urban | 1970 |
| B | 12 | 7 | Feldmeier, Robert | 1958 |
| B | 12 | 9 | Hoffmann, Geo. A. | 1958 |
| B | 12 | 10 | Hoffmann, Bertha | 1971 |
| B | 12 | 11 | Maeys, Geo. | 1958 |
| B | 12 | 12 | Wetzler, Geo. | 1958 |
| B | 12 | 13 | Wetzler, Lena | 1983 |
| B | 12 | 14 | Brandt, Wm. C. | 1959 |
| B | 12 | 15 | Brandt, Lydia | 1963 |
| B | 12 | 16 | Knobloch, Fred | 1959 |
| B | 12 | 17 | Knobloch, Hattie | 1960 |
| B | 12 | 18 | Trost, Dorothy | 1959 |
| B | 12 | 19 | Trost, Harvey | 1978 |
| B | 12 | 20 | Vallowe, John | 1960 |
| B | 12 | 21 | Vallowe, Louise | 1960 |
| B | 12 | 22 | Horneffer, Louise | 1960 |
| B | 12 | 23 | Horneffer, Conrad | 1972 |
| B | 12 | 24 | Jobb, Geo. | 1960 |
| B | 12 | 25 | Jobb, Alice Mae | 1961 |
| B | 12 | 26 | Schatte, Fred | 1962 |
| B | 12 | 27 | Diemert, Charles | 1962 |
| B | 12 | 28 | Voelker, Christian | 1962 |
| B | 12 | 29 | Voelker, Louisa | 1982 |
| B | 12 | 30 | Klein, Rudolph | 1962 |
| B | 12 | 31 | Klein, Ida | 20-APR-1981 |
| B | 12 | 32 | Brandt, Victor | 1962 |
| B | 12 | 34 | Hoffmann, Adam | 1962 |
| B | 12 | 35 | Hoffmann, Ida | 1973 |